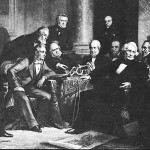 Goodbye to Leslie Ross, who returns to the University of Illinois, Urbana-Champaign, to continue her pursuit of a PhD in condensed matter theory. Leslie spent the summer here as part of an NPSC Graduate Fellowship doing important research on the memory error rates of silicon qubits in quantum computers. Good luck to her, a truly promising young physicist.
Welcome to Oney Soykal and Rusko Hristov who start as postdoctoral research fellows this fall. Oney joins us from Michael Flatte's group at the University of Iowa where he did groundbreaking work on nanomagnets in cavities. Rusko comes from Klaus Molmer's group at Aarhus as a senior postdoctoral fellow with extensive experience in device physics including optomechanics and quantum measurement theory. Welcome also to Mishkatul Bhattacharya who joins Ari Mizel's group. Mishkat has a very strong background in quantum optics, optomechanics, and atomic physics.
Check out the People page for full group info.